Best Logistics Company in Goa - Madgaon
Wednesday, 8 June 2022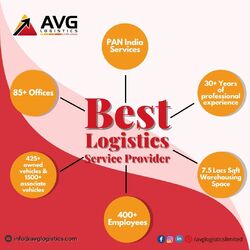 Contacts

Sanjay Gupta

77989 85093
Item description
AVG Logistics is an integrated logistics provider specializing in all phases of transportation and supply chain management. Headquartered in Delhi, India, we provide freight forwarding, warehousing, distribution and logistics services. With 30+ years of experience, we enjoy an unmatched reputation for reliability and expertise in the logistics and shipping industry.
We have a team of professionals with extensive experience in various logistics fields. We offer flexible and customized solutions to facilitate our customers' freight requirements.
It is known as one of the best Logistics Company in Goa and has branches across India.
The Company offers services in three key areas
1) Transportation: whereby it provides point-to-point less-than truck-load time-definite transportation services;
2) Warehousing: whereby it provides warehousing distribution and cold-chain warehousing; and
3) Value-added Services: including temperature-controlled logistics supply chain solutions and cargo handling services at integrated check posts.
The Company has adopted technology and processes including:
a)a system for loading and unloading orders with accuracy
b)GPS-enabled trucks that provide real-time visibility of shipments
c)data logger for controlling the temperature in reefers and
d)driver and truck management systems.
All warehouses are equipped with information and technology services like warehouse management systems (WMS) for optimal management and storage in the warehouse.
Our Services:

TRANSPORTATION

1. FTL and LTL (Primary)
2. Dedicated/ Secondary Solution
3. Express Delivery
4. Parcel/Door to Door/Households
5. Multimodal Transportation
6. Rail Service
7. Freight Forwarding
8. Reverse Logistics
9. Export to Nepal and Bangladesh
10. Cold Chain/ Refrigerated Transportation

WAREHOUSING

1. Manpower Handling
2. Storage Space
3. Multiuser Warehouse Facility
4. Bonded Warehouse

VALUE-ADDED SERVICES

1. End to End Solution
2. Customized Solutions
3. ODC
4. Custom Clearing & Port Logistics
5. Container on Rent
6. Forklift/ Cranes on Rent

Visit www.avglogistics.com for any booking/information.